What is sensitive skin and how do I know if I have it?
At some point in your life you may realise that you have sensitive skin. This is probably more common than you think and there are many people who suffer from the same thing. There can be many causes of sensitive skin, one of which could be an imbalance in your skin microbiome. Carry on reading to discover more about sensitive skin and what you can do to. help keep it healthy.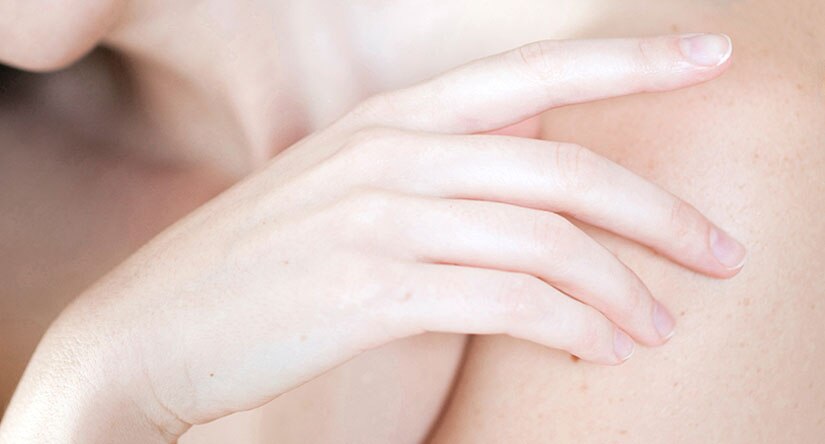 What is your skin microbiome?
Everyone's skin has over 1000 different kinds of microorganisms living on it. Don't worry, this is normal and actually good for the health of your skin. All of these microorganisms are called your skin microbiome, of which some are good bacteria and others bad. It's really important for good skin health to keep your skin microbiome balanced.
Is sensitive skin a type of skin or a condition?
We all know that there are different skin types – normal, dry, oily or combination, so you may be thinking, "what is sensitive skin?" Sensitive skin is most often a symptom of another condition. You may not even realise you have sensitive skin until you have a reaction to a cosmetic product. Sensitive skin can be caused by a number of different factors, such as dry skin. These conditions can sometimes be caused by an imbalance in your skin microbiome.
How does your microbiome affect skin hydration?
When your microbiome is out of balance, some of the bad bacteria can lead to sensitivity. That's why it's important to keep your microbiome healthy and your skin moisturised. There are some easy ways to keep your microbiome and the good bacteria at an optimal level and to possibly prevent sensitivity.
How to protect your skin's microbiome and prevent sensitive skin
It's easier than you might think to protect your skin's microbiome in order to help prevent sensitive skin. Sanex BiomeProtect is a new range of products that have been expertly crafted for exactly this purpose. The range of products, which can be incorporated into your everyday skin routine, includes products specifically developed for sensitive and hypoallergenic skin. You may want to try Sanex BiomeProtect Dermo Sensitive Body Wash, which nourishes the good bacteria on your skin and targets the bad, while making your skin more resilient to external aggressors and less prone to dryness after every shower. It has also been designed to gently soothe sensitive skin.
"

In addition to reduction in itching and improved hydration, moisturization of skin in those with "sensitive skin" is believed to prevent microbiome dysbiosis

"

Dr. Zac Handler
When used as part of your everyday skincare routine, these Sanex products could help prevent sensitive skin and keep it healthy so that you can feel more comfortable.
References
https://www.nature.com/articles/srep36062
https://www.healthline.com/health/skin-disorders/sensitive-skin
https://www.mindfood.com/article/everything-you-need-to-know-about-your-skins-microbiome/